Spot plus Projection Welding Machine <br/><span class="product-title-sub">with Forwel constant current feedback controller</span>
Economical to run & simple to use

Sturdy and Reliable

Manufactured using latest technology and precision engineering
Designed for high speed production job
Forwel AK54 Constant Current Controller gives stable current throughout the welding process
Controlled Weld Ecosystem to make each weld perfect
Engineered for optimum consumption of electricity
---
---
Kirti Machines Are Preferred For
---

Sturdy, No Vibrations
10mm thick sturdy body.
Thick sheets bent and welded to form a sturdy body that does not vibrates and gives precise welds.

Spot & Projection
Same Machine can be used for Spot welding as well as Projection welding.

Low Friction High Speed
Low mµ technology reduces friction substantially, gives fast operating speed. Upto 800 cycles/min oscillation at no weld.

Low & Easy Maintenance
Modular design and quick connect wiring harness makes removal of assembly part easy.

Thermal & Electrical Stability
New Specially designed Thyristor gives higher thermal & electrical stability and high tolerance to external electrical/magnetic noise/pulse.

High Duty Cycle
HighQ Transformer ensures high efficiency, low thermal losses & higher duty cycle.
---
Controlled Weld Ecosystem
Machine Interlocks & Real time Current Monitor to make every weld perfect
---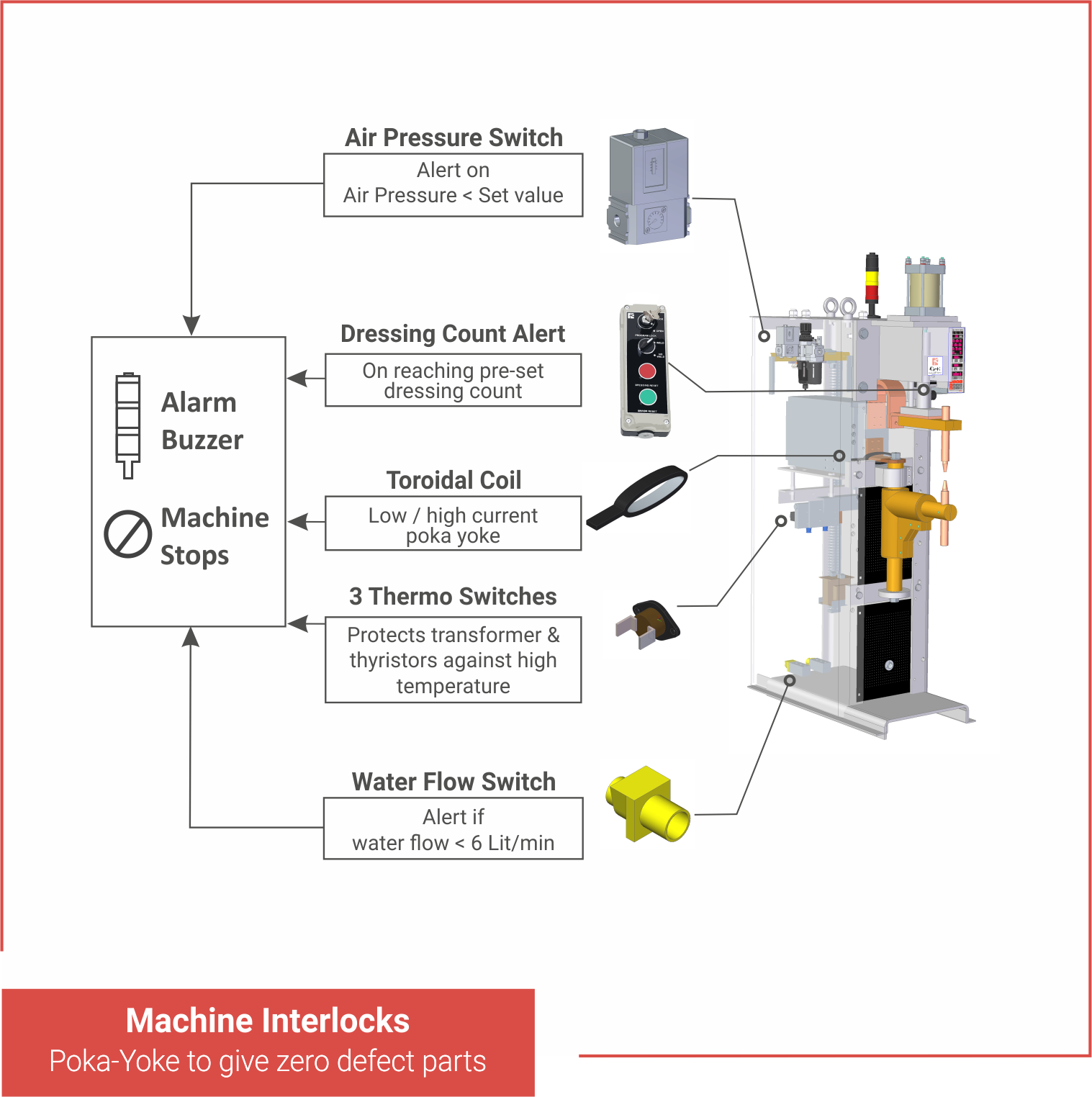 ---
We developed POKA-YOKE system for every important parameter like Water Pressure, Air Pressure, Current, Dressing count and Temperature control for Thyristor & Transformer.
The Tower Lamp gives Audio & Visual alarm if value of any of the parameter increases or decreases from the respective 'Set Value'. The Machine stops operating and starts only when the parameter resumes to the Set Value.
This Poka-Yoke system makes sure that welding process is done only when all the parameters are idol thus making welding error free.
---
Controller supplies stable welding current by secondary feed-back constant current method. Thus maintaining the current as per Set Value throughout the welding process.
---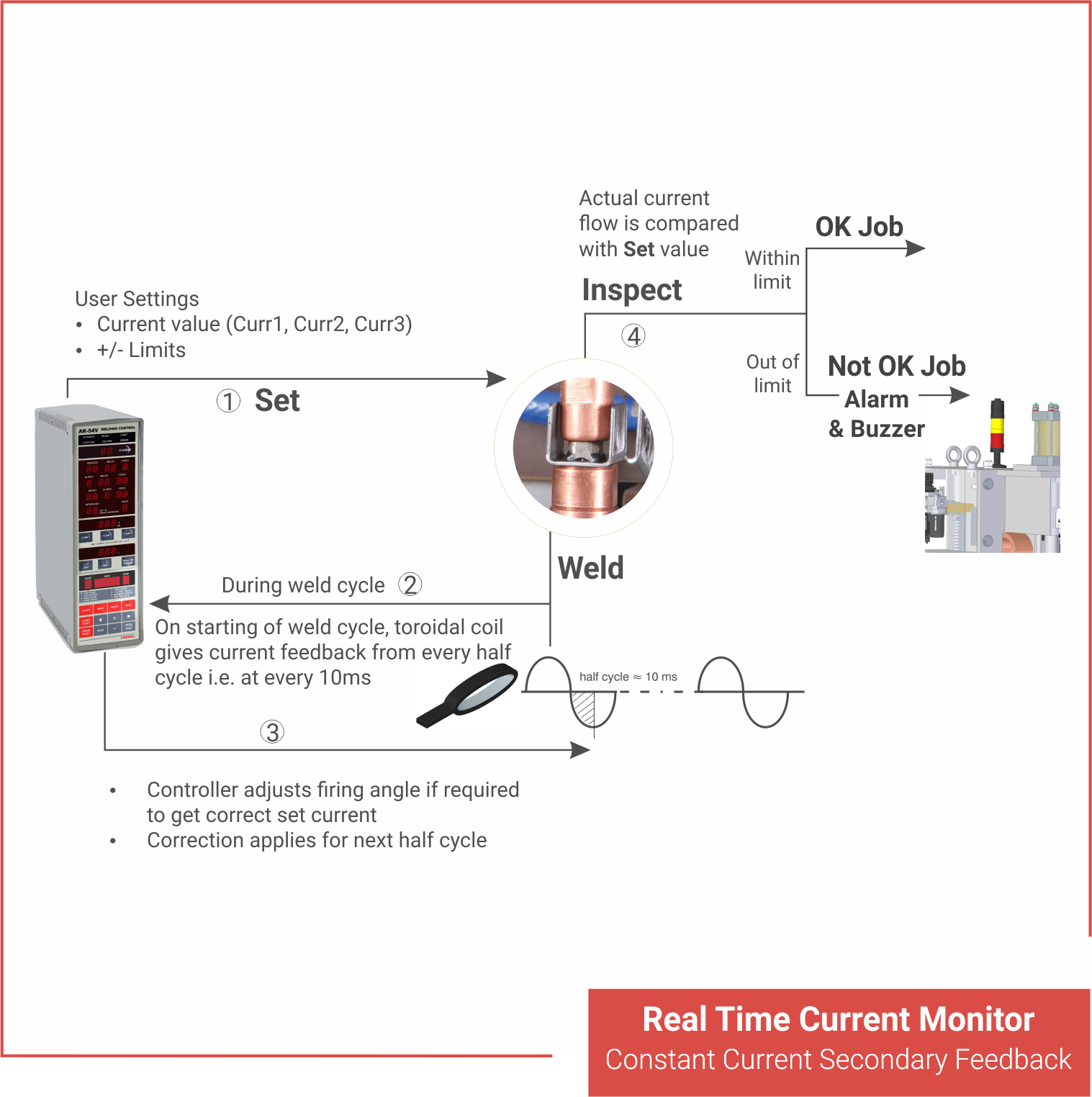 ---
Specifications
---
Machine Specs
Unit
SS75I
SS100I
SS125I
Rated Power at 60% Duty Cycle
kVA
75
100
125
Secondary Voltage
Volt
5.9, 7.4
6.5,9
8.2, 10.2
Welding Current Max
kA
15
20
24
Control Type
Secondary Feedback Constant Current Controller Forwel, Korea
Welding Time Setting Least Count (WL)
ms
10
10
10
Throat Depth*
mm
250~300
250~300
250~300
Arm Gap Max**
mm
300
300
300
Electrode Force Min-Max
kg-f
150 to 486
150 to 984
150 to 984
Free Air Consumption @ 1bar
for 100 Spots and 25mm stroke
liters
157
314
314
Cooling Water Pressure
kg/cm sq
2
2
2
Cooling water flow rate
lt/min
6
6
6

---

Welding Capacity (Indicative Comparison)

Sheet Metal CRCA
mm
2.5/2.5
03-Mar
3.5/3.5
Sheet Metal HR
mm
2.5/2.5
03-Mar
3.5/3.5
E34
mm
1.5/1+
03-Mar
3.5/3.5
Sheet Metal SS
mm
04-Apr
4.5/4.5
05-May
Projection Nut Welding – Max Size
M8
M12
M16
Dimensions
mm
1050 x 410
1050 x 410
1050 x 410
Height
mm
1780
1780
1780
Weight
kg
520
600
680
*

Custom made models available on request
---
Benefits for Nut Projection Welding
---
The welded nut withstands 2 times breaking torque that of standard specification
No Retapping
No Co2 Tagging
Minimizes Rework, Reduces Cost
Avoids frequent Destruction Testing
No adverse effects on the Threads and thus responds to go-no go test positively
---
---
Our manufacturing processes make machines more
Sturdy and Reliable
---
10 mm Thick body (TATA steel)
Machine body made sturdy by CNC bending and welding
Laser cut body Gives interchangeability of assembly parts
Cylinder Head & Brass elbow Machining on HMC
Powder Coated body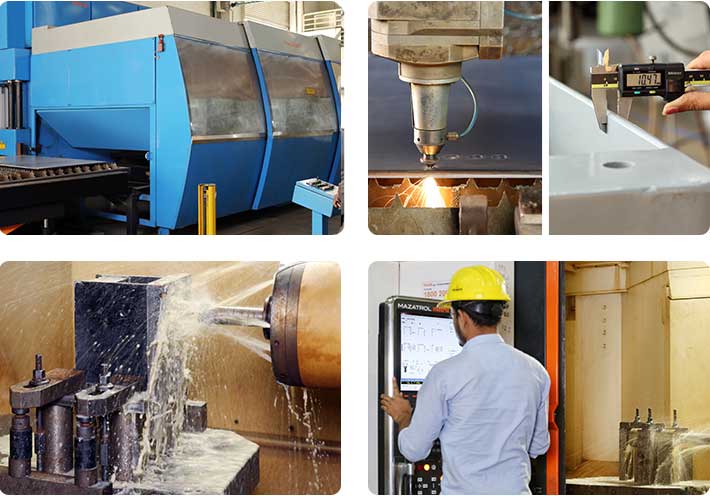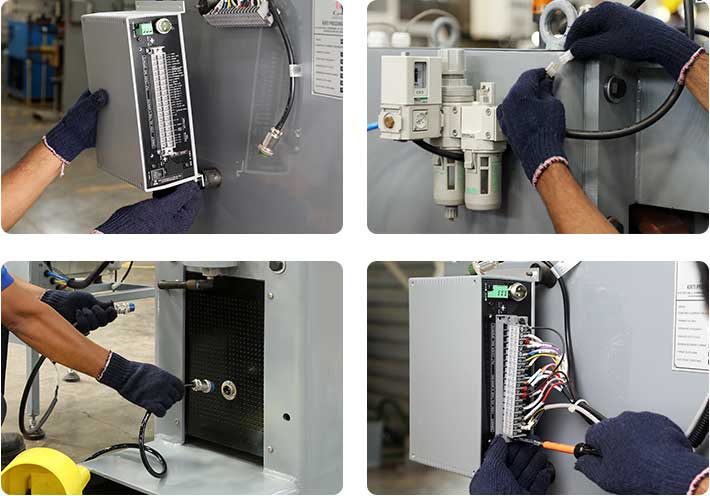 ---
Modular design and quick connect wiring harness make
Easy Maintenance & Troubleshooting
---
Machines have Quick Connect Wiring Harness with snap on connectors
Can easily remove – controller, thyristor and other assembly parts
It also helps in fault finding
---